The following lettering sets are new
or click here for the complete decal line
November 2019
| | | | |
| --- | --- | --- | --- |
| 11/30/19 | QA&P-2 | | lettering set for Quanah's USRA boxcars - two versions (+ caboose) |
| 11/30/19 | QA&P-2 | | lettering set for Quanah's caboose |
| 11/30/19 | ITC-3a | | lettering set for Illinois Terminal Modified 1937 AAR boxcars |
| 11/30/19 | ITC-3a | | lettering set for Illinois Terminal 53'-6", 50-ton flatcars |
| 11/30/19 | D&RGW Flatcar-1 | | lettering set for Rio Grande's 53'-6", 50-ton flatcars - white lettering |
| 11/30/19 | D&RGW Flatcar-2 | | lettering set for Rio Grande's 53'-6", 50-ton flatcars - aluminum lettering |
| 11/30/19 | SSW Flatcar-2 | | lettering set for Cotton Belt's 53'-6", 50-ton flatcars |
| 11/30/19 | WIF&S-1 | | lettering set for West India Fruit & Steamship Co's 1923 ARA design boxcars |
| 11/30/19 | WIF&S-2 | | lettering set for West India Fruit & Steamship Co's 10'-6" H.I. boxcars - white scheme |
| 11/30/19 | WIF&S-3 | | lettering set for West India Fruit & Steamship Co's 10'-6" H.I. green boxcars - off-yellow scheme |
| 11/30/19 | WIF&S-3 (1:87) | | lettering set for West India Fruit & Steamship Co's 10'-6" H.I. green boxcars - off-yellow scheme |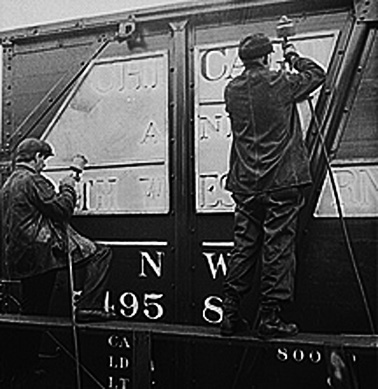 Decals in 1:48 scale allow for a higher degree of accuracy than those for the smaller scale models.
Protocraft strives to achieve the best possible rendering of the prototype lettering by working only from photographs, corrected for perspective and scale of the individual car in Photoshop, drawn in Adobe Illustrator as vector art, with decal sheets produced for Protocraft by Microscale Industries.
Protocraft has also partnered with well known HO decal artist and author Ted Culotta to bring his artwork to the 1/4"scale hobby, much of which has not previously been available.
Additional well known decal and dry transfer graphic artists that have contributed to the Protocraft Decal Line are Rick Leach, Greg Komar, Bill Schneider, Bruce Blalock and James Hickey. Some have decided to retire from the model railroad art line and take up other interests, leaving a void in this supply. Microscale's O scale line of decals is diminishing as stocks are depleted, and the old Champ decals are not worthy of todays quality and standards.. Protocraft is striving to keep these available to the hobby, mostly in 1/4" scale. We are adding to the line many decals per year - all are created from photographs in vector art as a new decal sheet or redrawn from contributors art.